Once again, US Senate Republicans are trying to …
Once again, US Senate Republicans are trying to ram through a so-called healthcare"repeal and replace" bill more like taxcare without even CBO scoring. Motivated by their oligarch financiers who will run primary contenders against Republican incumbents unless they repeal ACA and that pesky 3% capital gain tax, Graham-Cassidy are the latest sponsors of evil. In a block grant program, red states are rewarded and blue states punished. California can lose $28 billion in federal contribution to California healthcare causing millions of MediCal recipients to lose coverage.
Coalitions of health professionals that have spoken publicly against the measure so far include the American Medical Association ("Provisions violate longstanding AMA policy"), the American Psychiatric Association ("This bill harms our most vulnerable patients"), the American Public Health Association ("Graham-Cassidy would devastate the Medicaid program, increase out-of-pocket costs, and weaken or eliminate protections for people living with preexisting conditions"), the National Institute for Reproductive Health ("the Graham-Cassidy bill preys on underserved communities ... a clear and present danger"), and Federation of American Hospitals ("It could disrupt access to health care for millions of the more than 70 million Americans").
Once again we must rally. Call, fax, email or show up and let your Congress representatives know we will not tolerate this nonsense now or ever. If we stop this now, this Congress cannot again try this maneuver until 2019.
1-844-USA-0234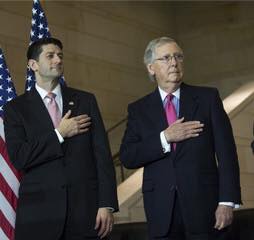 You can share this story by using your social accounts: