For our Mothers and our Daughters, for our Wives …
Alan Geraci for California Assembly District 75 shared North County San Diego Women In Solidarity's event.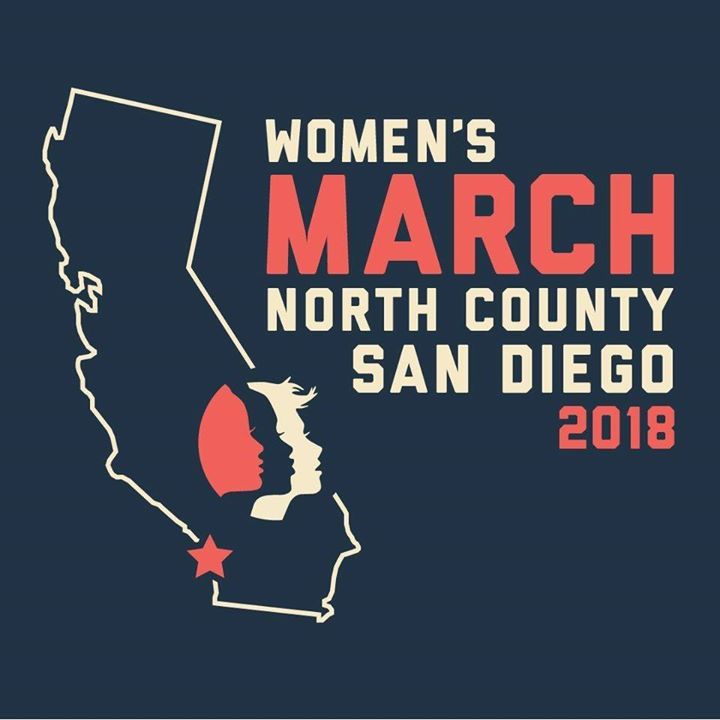 Women's March North County San Diego 2018
*Visit our website for the update: https://womensmarchnorthcountysd.com/womens-march-sd-2018/
*We appreciate if you register to attend: https://www.eventbrite.com/e/womens-march-north-county-san-diego-2018-tickets-41922647768
*Volunteers make the march special: https://goo.gl/forms/EwdifEk424kLX3uc2
*T-shirts: Will be sold on Sat, Jan 20th at Palomar College. We accept cash, credit cards, PayPal and checks.
Sponsorship and Tabling Application Form: https://womensmarchnorthcountysd.com/wp-content/uploads/2018/01/NC-San-Diego-Sponsor-Table-Form.pdf
=================================================
WOMEN'S MARCH NORTH COUNTY SAN DIEGO 2018 JAN 20
MARCHA DE LAS MUJERES 2018 El CONDADO DEL NORTE SAN DIEGO 20 DE ENERO A LAS 11.00 PALOMAR COLLEGE
EVENT SCHEDULE:
10:00 AM: Gates open
11:00 AM: Opening statements
11:30 AM: March for 1.2 miles *Walk on South side of W Mission Rd to San Marcos Middle School and then walk back on North side of street to Palomar College.
12:45 - 1:45: Rally and speakers
LOGISTICS:
Take Sprinter to Palomar Station (preferred). By car, park in Palomar indicated lots (we will update as the lots are identified.) The event will be located at Parking Visitor/Staff Lots #1 & #2.
Tome el Sprinter a Palomar Station (preferido). Por coche, parque en el estacionamiento indicado
de Palomar College.
Palomar College Map: https://www2.palomar.edu/telescope/wp-content/uploads/2014/10/campus-map-10_23_14-3.pdf
Sprinter Schedules & Maps: https://www.gonctd.com/sprinter/
WHY WE MARCH?
North County Women have mobilized, organized and led for many years, but since January 2017 and the attendance of almost 10,000 women at NC Women's March a strong wave of grassroots organizing has emerged surrounding women's issues and rights.
Join us this year as we call to action ALL North County women in Reclaiming our Power with:
Our Voice
Our Rights
Our Justice
Our Safety
Be informed and inspired by the next year of activism as we make our vote known in the 49th district and beyond.
There will be female speakers from across North County, Music and information tables.
ADA accessible and language interpretation available.
You can share this story by using your social accounts: